Here for you now
SoundBirth App is your pocket manager, available at anytime.
The best services to help you grow your career.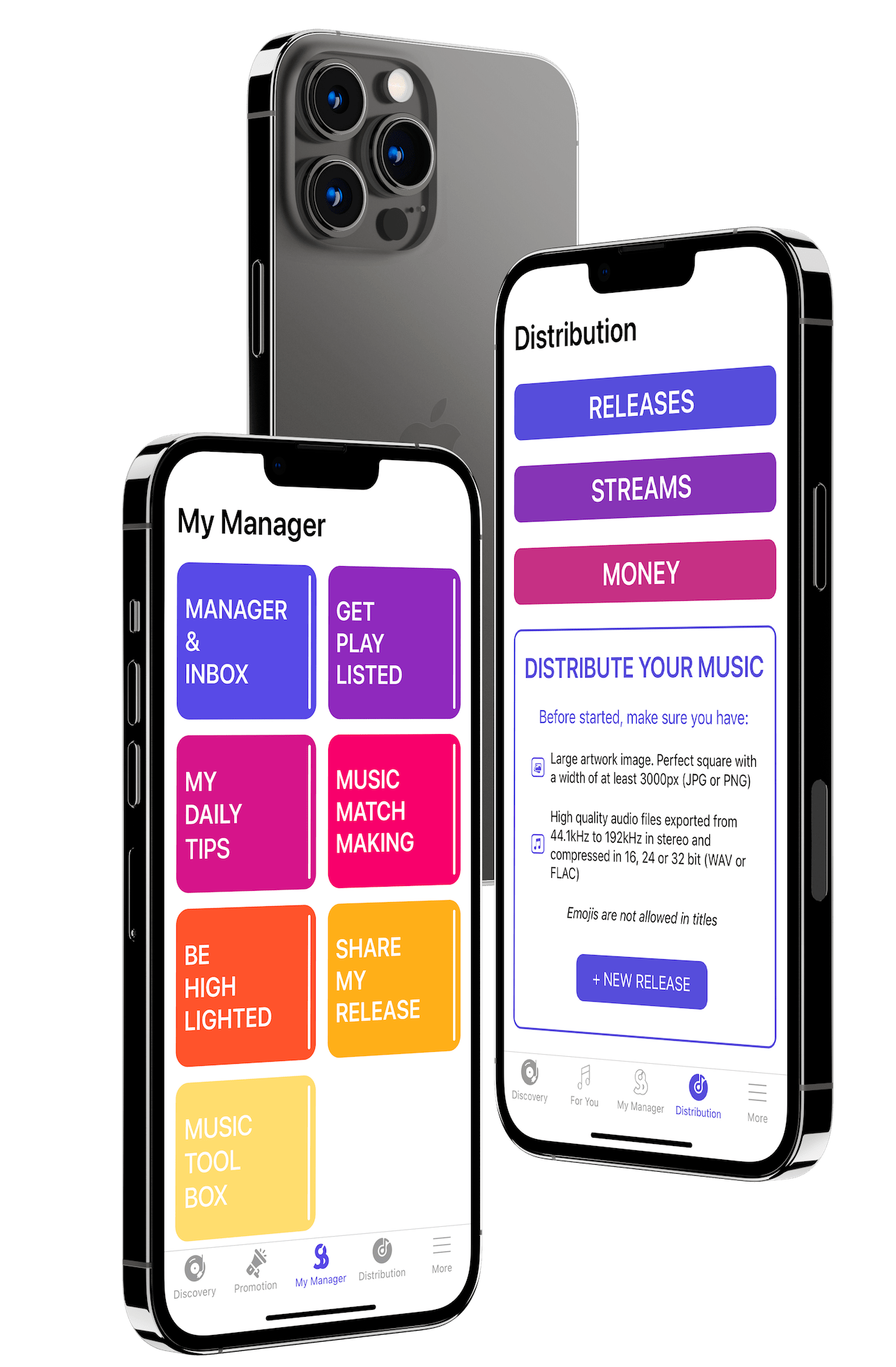 Go further with your Manager
Get tips for your career 24/7
Distribute your music
Get on great playlists
Grow your audience & streams
Be highlighted
Make Collabz & connections with pros
We HIGHLIGHT YOUR
TALENT
By sharing your tracks with our playlist curators, you get the chance to get a real boost in promotion.
Discover how: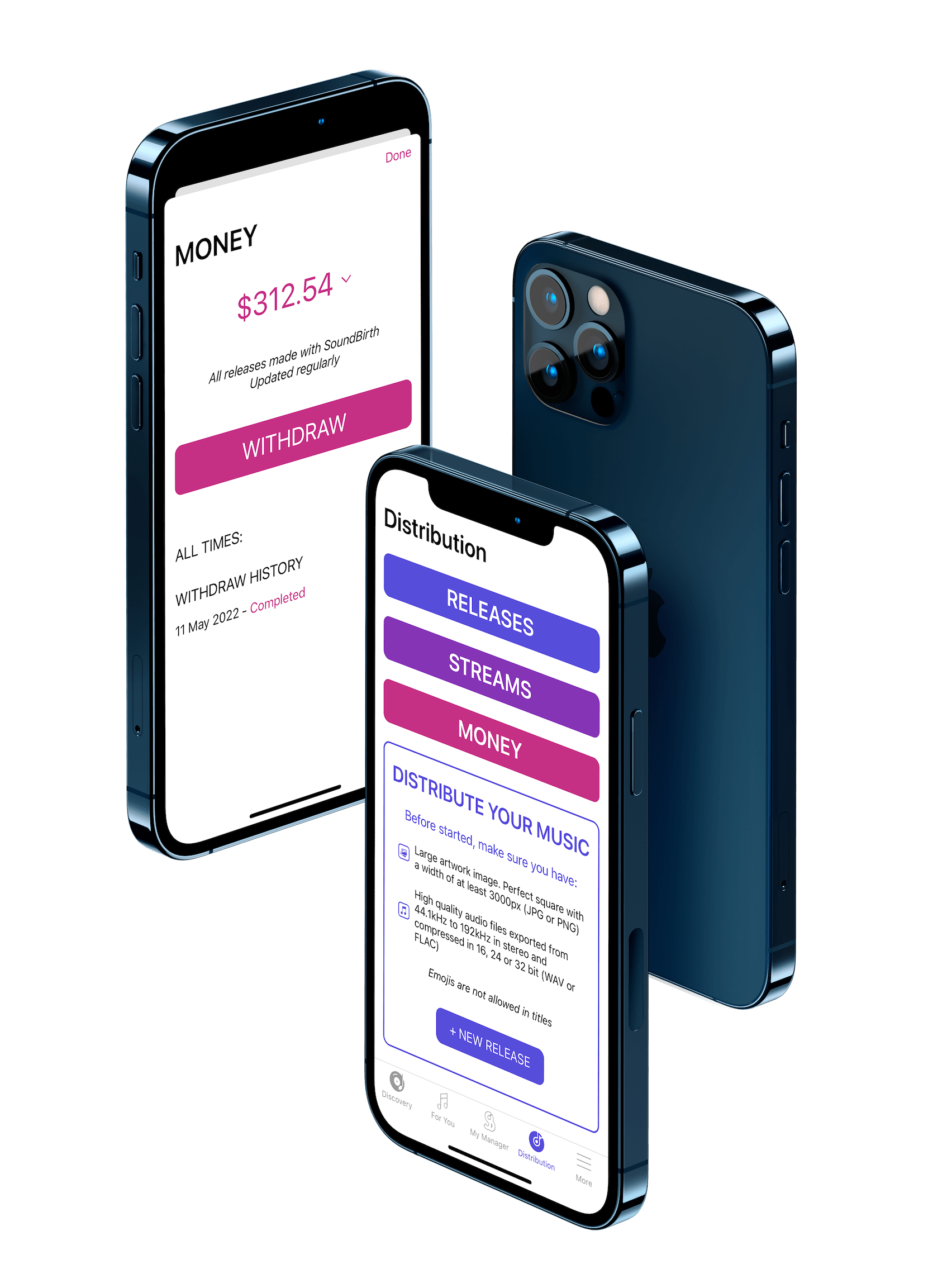 FREE DISTRIBUTION
Distribute your music for free* on the major streaming platforms such as Spotify, Apple Music, TikTok, Instagram, Deezer, Amazon, Tidal…
Access your streaming data, withdraw your money.
In stores forever, no annual fees. We won't charge extra to keep your music in stores or to send you royalties.
*No upfront charges and a 15% commission on the share of royalties to our store partners (SoundBirth will take no extra fee fyi) and you'll keep 100% of your recording.
High Quality (up to 192 kHz ~ 32 bit) & Dolby Atmos welcomed! ⭐️⭐️⭐️⭐️⭐️
"SoundBirth has really helped me connect with other artists with a platform that can be trusted. I love that I can communicate with real people about my music and get industry knowledge and advice. I've also discovered so much great music to listen to through the playlists!"
⭐️⭐️⭐️⭐️⭐️
"SoundBirth has been SOOOO supportive of our band, songs, and mission to create an escape through music. It makes all of us smile when they put us on multiple playlists, tag us, put us in stories and everything. I was used to music companies just trying to get as many customers as possible and either having us get lost in the mix or just seeing super generic posts. SoundBirth isn't like that, they generally listen, care, and pay attention!"
⭐️⭐️⭐️⭐️⭐️
"SoundBirth is more than a promotional tool for artist. You're able to build community, connect with other artists, submit to playlist, have your music review, featured & shared with industry leaders. These things are a huge help for independent artist. I am one that appreciates the time the SB team has put into it's community. This is much more than a self promotion tool, thank you."
BEST ARTIST SERVICES
Talk to a Manager anytime, be Highlighted, a Music Tool Box, distribute your music, tips on promotion…
BOOST YOUR STREAMS
Our curators are doing the greatest playlists. Apply to them, get discovered & grow your fanbase!
GROW YOUR AUDIENCE
Benefit from new collaboration opportunities and be spotted by professionals.
Be guided #MusicNextGen
The music industry is always changing & we're here to guide you. From now on focus on your music only.
Get in our Playlists
1 – Download SoundBirth
2 – Go on "My Manager"
3 – Send us your track
4 – You'll be in our Playlists
Let's Get Started
Ready to make a real change?
Let's build this thing together!